Teams are the heart and soul of our Race! By starting a team, you can bring family, friends and coworkers together to celebrate a survivor in your life, honor the lives of lost loved ones, or simply support a great cause. In addition to receiving some friendly competition, when you start a team you'll receive a team website, tools and resources to help you build a successful team, and eligibility for top team rewards.
When teams register they have the option of choosing a Team Division. We have 5 different team divisions: Friends/Family, Company/Corporate, Healthcare, Academic and Faith Based.
Team Awards are given on Race Day on the main stage starting at 11:10 am.
Awards are given to the Top Fundraising Team, the Team with the most members (1 per division), and the winners of the team t-shirt contest. Click here for information on the Team T-shirt Contest.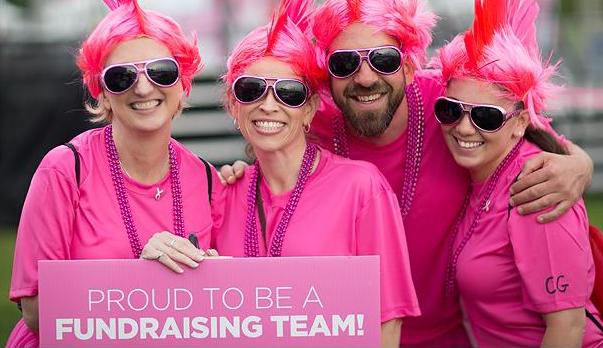 The Top 5 Fundraising Teams (determined on Oct. 7) will have the honor of having their very own Komen tent in the park on Race Day! Captains and team members can decorate their tents the day before the Race and then gather there on Race Day to celebrate their success! The team captains of these 5 teams will be notified by email Friday evening, Oct. 7th.